Description of Instant Confidence With Women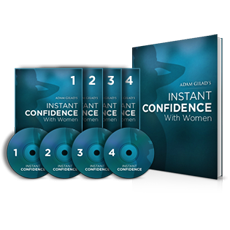 This program by Adam Gilad offers the tools to help men develop the confidence to attract beautiful women. Gilad aims to provide the triggers to make a woman feel that she is with a confident man.
The program is also intended to help end the cycle of thinking a beautiful woman will give you the confidence and instead learn how to attract her because you have first developed the confidence.
Three of the program's triggers include:
The Dominant Frame Trigger
The Body Language Trigger
The Commanding Conversation Trigger
What you'll learn in Instant Confidence With Women
Table Of Contents/ List Of Topics Covered:
How to close by using 4 commanding doorstep "good night" reframes
Creating instant authority so a woman feels safe, trusting, and admires you
Confident conversation power tools that get women excited about getting to know you
Likability triggers to create immediate warmth and affectionate feelings from women
Party domination methods to develop your ability to "own" the room with immense attraction
7 "clearing" techniques to eliminate negative beliefs and stop sabotaging your success with women
About Adam Gilad
Adam Gilad is a gender language specialist and has applied his expertise to teaching dating, intimacy, and deep eros. He began dating coaching in 2007 and teaches men and women to live more adventurously and passionately from love, not from fear.
He is an accomplished author, speaker, film producer, mentor, coach, and teacher, having authored several books, many audio training courses, and more than 20 television shows.
More courses from the same author: Adam Gilad
Share Tool - Group Buy Tools and Premium WordPress From $1