Simply Laughter Online Summit: Everything you need to know about transforming lives through Laughter
Welcome to the Simply Laughter Online Summit Encore 2018
For The First Time EVER!
40+ Experts & Practitioners gather to Empower, Enlighten & Energize you with a Deeper Awareness of how to transform lives through Laughter.
Who is presenting and what are the different steps we cover?
I have hand picked 30+ Laughter Experts who are at the top of their game. Despite their busy schedules they have dedicated time to share this knowledge with you. YAY!
I have also gathered 10+ of my Professional Speaker friends who are Experts in their field to help you learn the top tips that you can adapt to any business.
Three steps we will cover in SIMPLY LAUGHTER ONLINE SUMMIT:
Step 1 Laughter Yoga Practices
See what other laughter professionals around the world are doing to change lives and spread Laughter as a way to live a healthier, happier life.
Step 2 Adaptions of Laughter
Discover how to become niche and come up with your own unique Practice and transformational tools. You can do it!
Step 3 Business Skills Development
Learn how to up your game and improve on all the skills you need to run a productive club. Practice or business?
I have created the course to cover a variety of these Steps every day. You can watch it in sequence or by Expert Speaker and Topic of interest.
Here is the schedule for the 5 Days of Simply Laughter Online Summit:
SIMPLY LAUGHTER ONLINE SUMMIT List of Days and speakers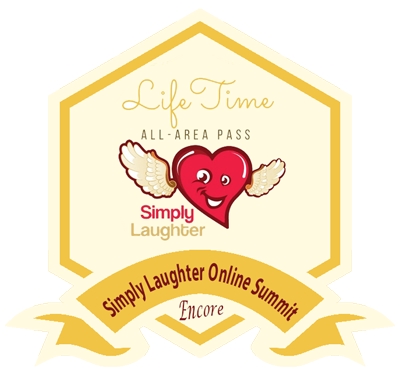 SIMPLY LAUGHTER ONLINE SUMMIT DAY 1
Jo-Dee Walmsley Opening Welcome

Who is the Simply Laughter Online Summit For
How laughter changed my life
How to get the most out of the summit
Lots of bonuses

Dr Madan Kataria – Founder Of Laughter Yoga

How he started the Laughter Yoga Movement
Where is Laughter Yoga Heading
World Laughter Day

Jules Mitchell – Laughter with Kids & Schools

How Happy Schools Programme is delivered
Joy Shots & Magic Minutes
Get 'buy in' from the schools

Anne Rose Hart – Quantum Play and Joy Retreats

Quantum Play & Laughter Yoga
Corporate Clients
Running retreats

Teena Miller – Dialysis Patients & Hospitals

Working With Dialysis Patients and what exercises are best
Laughing in Hospitals
ASTEP Program ( A Seated Therapeutic Exercise Program)

Lesley Lyle – Happiness Ambassador and PP

What it means to be a Happiness Ambassador
How it all started
Positive Psychology People

Sylvia Baldock – Images & Being Memorable

Scintillating Speaking
Dressing for Success
Sign Posting for credibility

Saana Azzam– Making Money Doing What You Love

Why it's so important to charge for what you are doing
How to make sure you will get the fee you deserve
What help you can get to get booked
SIMPLY LAUGHTER ONLINE SUMMIT DAY 2
Jeffrey Briar – Laughter Clubs

Running a laughter club for 12 years every day 40 000 laughers
Why we must not forget to laugh in our club
Laughter Yoga tools

Elva Zhang – Quantum Potential of Joy and Meditation

Why Quantum Physics is so relevant in our Laughter Practice
How to apply Quantum Physics to your Laughter Practice
How Meditation and this is so important in Business

Luis Gomez – Jails

Laughter in Mexican Jails
Documentary 'I'm Free'
Manuel about how to run LY in Jails

Ros Ben-Moshe – Laughing at Cancer

Talks about her Best Seller book 'Laughing at Cancer'
Laughing in times of adversity
Research and essential tool kit

Linda Leclerc – Presenting and Laughter Business

Information you need to ask for before you get a gig
How to prepare for your talk
All you need to know about presenting your talk

Mary Turner Thomson – Writing, Publishing and Marketing Your Book

Who should write a book
How to Publish your book
How to be a best selling author

Angie Phillips – Designing your Marketing Material

Designing your website, business cards & promo
Logo's and branding
Presentation materials

Michael Dodd – Answering Difficult Questions

How to respond to difficult questions
The importance of being prepared
Turning the situation around
SIMPLY LAUGHTER ONLINE SUMMIT DAY 3
Julie Ostrow – Improv, Humor and Laughter

How Improv, humour & laughter help business
Perseverance & resilience
Improv Improves Presentations

Francis Monferrer– Sacred Sexuality and Relationships

10 Steps from his book 69
No 9. Sacred Sexuality
How to be in the flow in communication

James Hazlerig – Laughnosis

Laughter Yoga and Hypnosis
Laughmations
Overcoming fears and phobias using Laughnosis

George Toscani and Sabina Gerin – AquaLaughter

What is Aqualaughter
How it can help deal with the fear of water
Research on laughing in the water

Janni Goss – Mental Stress, Carers and Golden Ages

Dealing with mental health issues
Laughing with Seniors, Dementia & Alzheimer's
Laughter prescription

Merv Neal – Business – How to Improve Your Laughter Business

Why its so important to take control of your health in business
Amazing research for your blood pressure
How to run a successful Laughter Business

Jermaine Edwards – Keep Recurring Clients

The importance of repeat clients
Steps to take to make sure you create raving fans
The right clients

Albert Nerenberg – Actorcise and Laughology

Laughology – Alberts journey to find laughter
Laughter is serious business
All about Actorcize
SIMPLY LAUGHTER ONLINE SUMMIT DAY 4
Warren Knight – How to get work through social media

Social Media is more than just Facebook
How to make the most of your posts
Using Linkedin to generate paying clients

Dave Berman – Daily Laughers

Lessons learned from 2 years of Daily Laughers
What inside out laughter is
Allowing, resilience and impact

Diane Kichijitsu – Laughter in Traumatic situations, and on Cruises

How laughter helped after the Japan Tsunami
How to Niche
Working on Cruises

Alex Sternick – Gibberish – the Art Of Nonsense

Importance of expressing your emotions
What is the art of Non sense
Concept of the Gibberish Professor

Sue Carter Ansari – Lympatic System and Joyfit

Laughter getting you through difficult times
Laughter and how it benefits the Lympatic System
Joyfit

Lotte Mikkelsen – Laughter training, Laughter Business

The different types of Laughter Training
Laughter Business
Telephone laughter

Punam Verma – Interview Skills

How to give a good interview
Tips on different types of media
Soul Travel

Mindy Gibbins-Klein – Thoughtful Leadership

Why Thought Leaders should be Thoughtful Leaders
Carve out and schedule thinking time and space
Check in with yourself constantly
SIMPLY LAUGHTER ONLINE SUMMIT DAY 5
Sebastien Gentry – Laughter Wellness

The story of Laughter Wellness
Training Laughter Professionals online
Making a living in the Laughter Business

Guy Giard – Humanitarian Clowning with Patch Adams

1 How Patch Adams changed Guy's life
2 Humanitarian clowning around the world
3 What is love and compassion

Olivera Radovanovic – Laughter Yoga Tourism

1 Laughter Tourism
2 Laughing with corporate businesses in the Balkans
3 Laughter outdoors

James Taylor – Creativity

Why Creativity is so important
AI and Creativity
5 Steps to the Creative Process

Joe Hoare – Yoga Part of Laughter Yoga

Laughing from the inside out
Get clear about what, exactly, your own take on laughter yoga is. You will then naturally find your client base / 'tribe'
The importance of doing your apprenticeship

Julie Holmes – Sales and Marketing

Niching – differentiating yourself
Sell more earn more
Hey Mic for all your smart phone recordings

QJ – Fill your Workshops

What a Workshop Business is
Why its so important to niche, know your subject and add value
Why having workshops are so important

Jo-Dee Walmsley – Robert Rivest & Rohit Bassi – Closing Talk

Get more bonuses and give aways
Enjoy Simply Laughter Online Summit!
Remember to Live Life Laughingly
More courses from the same author: Jo-Dee Walmsley
Share Tool - Group Buy Tools and Premium WordPress From $1