What's Included In Podcast Systems University:
There are 10 BITE SIZE MODULES to walk you through each step of the process.
​Our podcast development sheet to build the structure and foundation of your show so that you have an organized & CLEAR PATH.
The EXACT Software & equipment setup we've used on our podcast (which we've been able to MONETIZE within 6 MONTHS) which will get your podcast up and running FAST & AFFORDABLY.
​Gain EXCLUSIVE access to our private Facebook community and find the support, MOTIVATION you need. Get ready to meet your new best friends.
Book TOP guests & experts with our PROVEN outreach templates our guest tracker system.
​Stay organized with our project management sheet and say GOODBYE TO STRESS.
Our EXACT PROCESS TO HIRE A VA FOR $9 an episode and set you up for success to have a seamless partnership.
How our VA walks through editing an episode in ACTION.
The strategies we have used to grow our podcast to 27K DOWNLOADS in 1 year and GAIN SPONSORSHIPS.
Podcast Systems University Curriculum
Module 1: Intro & 7 benefits of podcasting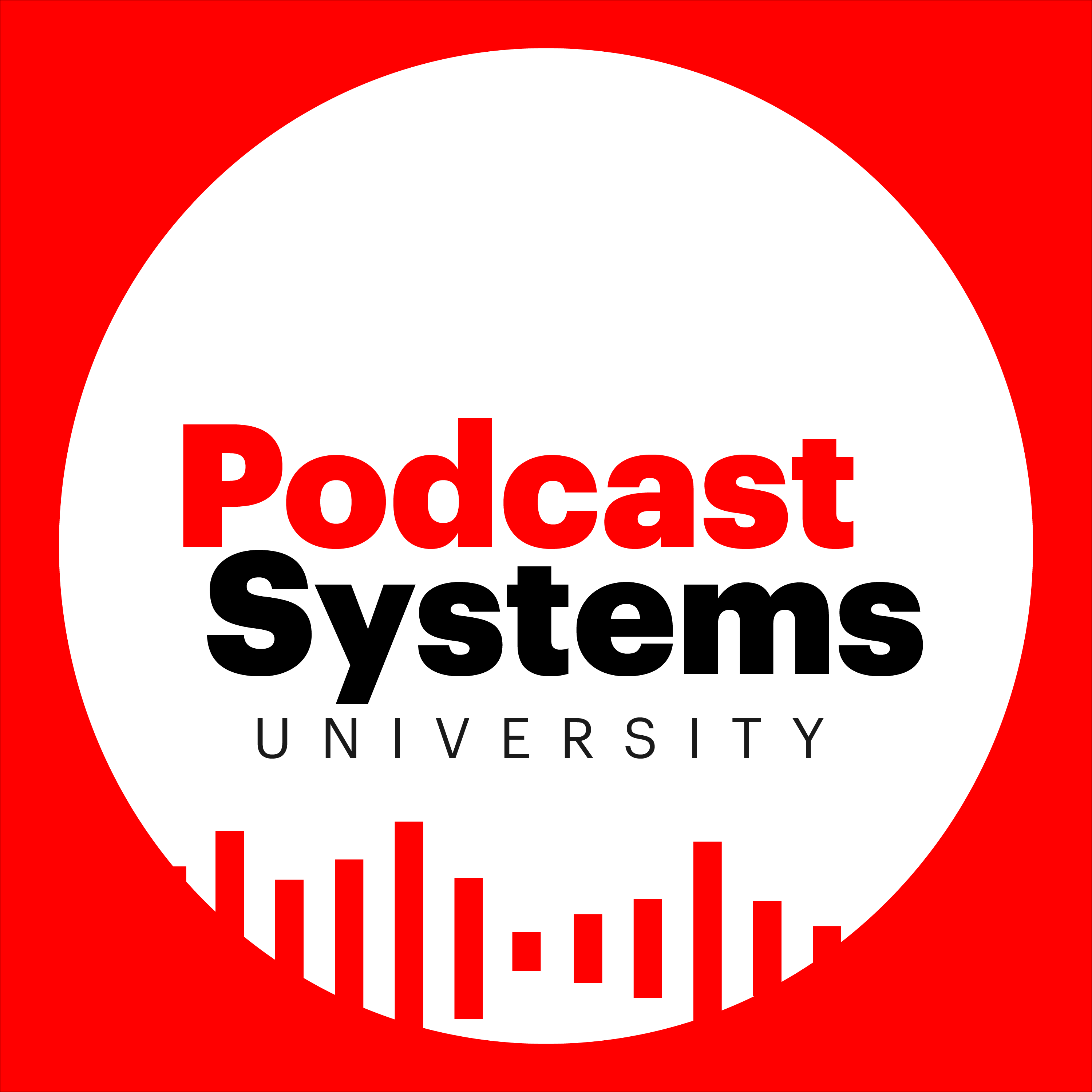 Welcome
Who am I and why did I start this course?
7 benefits of podcasting
Challenges to getting started
Module 2: Identifying what your podcast will be about
What is your podcast about?
Take a minute and fill out what your podcast is about
Module 3: Software & equipment
What software & equipment do you need to get started?
Module 4: How to build your first list of guests and start your project management sheet
Getting guests on your show and how the interview works
Building a list of guests
Module 5: Calendly set up and full outreach process sheet walk through
Create a scheduling link
How to schedule/prospect for people stress free or have your VA do it
Module 6: Editing & Producing process
Module 7: How to hire your editor and likely more
Module 8: Pre-recording systems – How to have a great episode
Module 9: Recording and Post-recording. What does this look like in action?
Recording an episode in action
Module 10: How to grow your podcast
More courses from the same author: Jonathan Farber
Share Tool - Group Buy Tools and Premium WordPress From $1
DELIVERY POLICY:
When will I receive my course?
You will receive a link to download your course immediately or within 1 to 21 days. It depends on the product you buy, so please read the short description of the product carefully before making a purchase.
How is my course delivered?
We share courses through Google Drive, so once your order is complete, you'll receive an invitation to view the course in your email.
To avoid any delay in delivery, please provide an Gmail and enter your email address correctly in the Checkout Page.
In case you submit a wrong email address, please contact us to resend the course to the correct email.
How do I check status of my order?
Please log in to CourseAMZ account then go to Order Page. You will find all your orders includes number, date, status and total price.
If the status is Processing: Your course is being uploaded. Please be patient and wait for us to complete your order. If your order has multiple courses and one of them has not been updated with the download link, the status of the order is also Processing.
If the status is Completed: Your course is ready for immediate download. Click "VIEW" to view details and download the course.
Where can I find my course?
Once your order is complete, a link to download the course will automatically be sent to your email.
You can also get the download link by logging into your CourseAMZ account then going to Downloads Page.
You may also like: