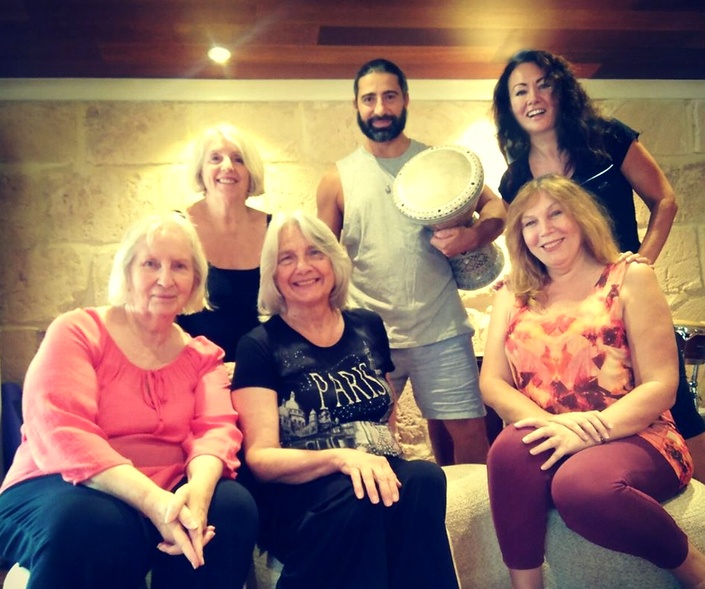 Description of Silver Shimmies Somatic Bellydance
Somatic Bellydance Sessions for Seniors (with modified moves for physical limitations)
Silver Shimmies is a gentle series of 6 weekly classes with Keti Sharif, delivered online in Aug-Sep 2020 as pre-recorded video classes.
Silver Shimmies is a 45 minute Somatic Bellydance Class ideal for Seniors or those with Physical Limitations. You will be taught safe Somatic & Bellydancing movements with specific modifications for particular common issues; namely shoulder, back, hip, knee or foot/ankle limitations.
We work on gently stimulating the lymphatic system, moving the body through many planes of movement in flowing sequences and building flexibility whilst improving health and wellbeing. Each week we begin the class with a specific focus on each of the six levels of 'total body connectivity', so you will learn more about Somatics for wellbeing.
Once you receive each weekly class, delivered on Fridays throughout Aug-Sep 2020 – all 6 x classes are yours to keep for good. You can access or download these video classes at any time so you can cycle and repeat the series, or choose specific sessions at any time.
You do not need to be a senior to enjoy these classes.
What you will learn in Silver Shimmies Somatic Bellydance
Welcome & Introductions!
StartWelcome & Introduction Video (1:57)
Silver Shimmies Classes
Class 1: Fri Aug 14 (73:41)
Class 2: Fri Aug 21 (44:39)
Class 3: Fri Aug 28 (43:53)
Class 4: Fri Sep 4 (40:10)
Class 5: Fri Sep 11 (40:18)
Class 6: Fri Sep 18 (50:15)
About Keti Sharif & Sam Nascimento
Meet Keti Sharif & Percussionist & DJ Sam Nascimento! The dynamic duo present exciting dance & drumming workshops online. Both have strong affiliations with Egypt, where they researched & recorded a variety of traditional & rare rhythms with top Arabic musicians.
Keti & Sam merged ideas & talents to usher in a new approach into the rhythm-dance-music connection. They enjoy working together to offer a fresh, energized perspective to support both students & professionals interested in various Arabic musical cultures – old & new.
Both Keti & Sam have enjoyed a life-long immersion & passion for Arabic & World music & cultural dance arts. They believe that Arabic rhythms are the essential 'grass-roots' foundation of both Arabic music & dance. They teach participants how to understand, feel & integrate a variety of rhythms & nuances. Their aim is to help dancers & drummers develop a stronger connection to the RHYTHMIC ESSENTIALS of Arabic music & movement.
More courses from the same author: Keti Sharif, Sam Nascimento
Share Tool - Group Buy Tools and Premium WordPress From $1