Description of Reconnect To A Sensuous Life

Reconnect to the sensuous life you deserve through a journey of shamanic practices — one that promises to reignite your deepest desires and stir your soul.
In econnect To A Sensuous Life, with the compassionate guidance of shamanic healer Langston Kahn, you will cultivate the techniques necessary to dismantle societal conditioning and taboos — and build the spiritual resilience necessary to move ahead and create positive possibilities in the world.
Drawing on Indigenous wisdom traditions, and working through a series of talks, experiential exercises, and body-based techniques, Langston will help you metabolize fears and traumas…
… and emerge into a realm of beautiful transformation by freeing your authenticity and unlocking your unique genius.
What you'll learn in Reconnect To A Sensuous Life
During econnect To A Sensuous Life, you'll: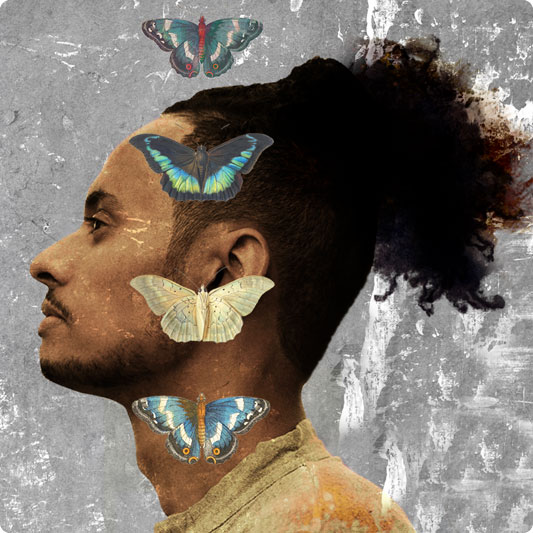 Discover concrete skills to cultivate deep grounding, skillful boundaries, and a healthy energy body
Learn methods for authentic shadow work, learn from (and heal) your triggers and trauma, and release stories, beliefs and fears that are holding you back
Explore tools for effectively tending personal and collective well-being within community as you claim the power of your gifts
Learn how to feel, listen and connect with your body's wisdom
Honor the Earth through rituals and teachings that connect you with the land on which you stand, the spirits, and the elements
Work with your emotions as teachers
Explore the erotic, desire, and longing as a source of your power and sovereignty
Discover the importance of surrender, desire and rest as you step away from a life based on busyness, fear, and survival
Manifest your vision and cultivate a healthy relationship with power
Session by session, Langston will guide you along a journey into your being — into the temple of your body through the vehicle of your desire. You'll learn to connect with the Earth beneath your feet and the elements that keep your spirit alive.
In econnect To A Sensuous Life, Langston's teachings will encourage you to:
Talk specifically about patterns as a result of being socialized in these systems.
Expand your edge: You may experience "words" you're already familiar with and practices that you may not be
Address the challenges of where we are in this world right now
Liberate the power of erotic desire and discover how to use that as a compass to navigate the pleasure of being in the body, in the sensual world
Relate better with others
Become a reverent ecological steward of the land: Repair, reconnect, and explore what it means to be a custodian of the land vs extracting from the Earth
The course will culminate with Langston bringing the group together to liberate and integrate your purpose and your vision — through the three truth centers of mind, heart, and gut — so you can incorporate them into your life and share your gifts in service of your vision…
… and the collective.
Join this dynamic and inspiring 5-module journey and experience powerful transformation and healing through a connection with the spirit of the land, the elements, and the wisdom of your body.
What You'll Discover in econnect To A Sensuous Life
In this econnect To A Sensuous Life course, Langston will guide you through a powerful transformation as you learn to reconnect with your purpose and vision, the spirit of the land, and the wisdom of your body.
This econnect To A Sensuous Life course will feature step-by-step teachings and experiential practices with Langston. Each session will build harmoniously upon the previous ones, so you'll develop a complete holistic understanding of the practices, tools, and principles you'll need to radically transform yourself from the inside out by connecting with your true desire.
Module 1: Waking Up in the Fire — Bringing Deep Presence to Our Bodies
In this opening module, you'll explore techniques for forming a compassionate relationship with your body by learning to listen to and interpret its wisdom.
You'll reconnect deeply with the land on which you live. As you commune ritually with the element of Fire, you'll release the beliefs, stories, and fears that keep you out of right relationship with your body… and engage a deep grounding practice to cultivate a foundation of safety at the root of your being.
In this session, you'll discover:
Concrete techniques for coming into compassionate relationship with your body — by getting out of your head and cultivating deep presence
A practice of Grounding Visualization to connect to the Earth as a source of stability, balance, and safety — serving as a reminder of your essence
How to listen to the felt sense in your body as a source of wisdom and forward movement in your life
Protocol for an effective elemental fire ritual to release stories, beliefs, and fears that keep you out of right relationship with your body and the Earth
Module 2: We Are of the Earth, Not on It — Repairing Our Relationship With Divinity & Humanity
Now that you've deepened your relationship with your body, you'll explore the soul. You'll unpack some of the common stories that get in the way of embodying your innate divinity and learn to begin connecting with the spirits of the land through an Earth Shrine. As your relationship with the Earth's essence grows, you'll realign with your own essence, accessing the protection, blessings, and inspiration of your purpose.
In this session, you'll receive:
A practice of Central Channel Visualization to explore the nature of your humanity and your divinity in relationship to the web of life
Teachings on how to work with an Earth Shrine as a source of power and a tool for deep land connection to help you manifest and cultivate balance, wholeness, trust, and belonging
Guidance on how to engage your body's symbolic language as a tool for connection and co-creation with the spirits of the land
Protocol for creating, opening, and tending an Earth Shrine
Module 3: Strong Like Water — Cultivating True Warriorship & Working With Our Emotions as Allies
Now that you're beginning to feel the relationship between your humanity, divinity, and essence, you'll learn to engage your emotions as wild, wise allies in maintaining alignment. You'll explore tools for forming healthy, intelligent boundaries so you can begin to trust your inner experience and discern what is not yours to carry.
By learning how to work with the elements through your Earth Shrine, you'll cultivate greater balance and wholeness in your life. When you forge a new relationship with your true desire, you can engage it to serve as a compass pointing you toward your purpose.
In this session, you'll discover:
Energetic practices for cultivating healthy, intelligent, and flexible boundaries
Protocol for Elemental Alchemy to engage the elements through your Earth Shrine to create balance and wholeness in your life and discover your true elemental nature
How to work with your emotions as teachers
An exploration of the erotic as a source of power — when you're aware of what satisfaction means to you and what to say no to, you'll stand more firmly in your sovereignty
The practice of the Cauldron of Desire, in which you'll release false cravings and connect with your true longing
Module 4: Unlocking the Deep Mind With Air
Even when you're connected to your desire, it can be difficult to discern what you truly want when your mind is filled with stories from your culture that attempt to dictate what you should desire.
You'll explore ways to move out of the analytical mind and into the Deep Mind so you can skillfully track your heart's intuitive wisdom. You'll learn tools for engaging your life as a teacher and unpacking the gifts in your triggers. Langston will share a practice for tracking unhelpful stories you carry to the root of your body and help you transform them at the core.
In this session, you'll discover:
How to access the Deep Mind through learning to track energy skillfully and shift out of your analytical capacity
Connection with your true longing and essence energy
How to track energy skillfully
How to work with stories from your childhood or culture that are limiting your ability to take action on your longing — and how to show up authentically in your day-to-day life
Techniques to unpack the gifts in your triggers
Protocol for an Air Ritual vow to commit to the embodiment of your unique genius and to enlist elemental support for bringing your genius into the world
Module 5: Liberating Our Power in Service to Our Vision
In this final module, you'll work together with the group to liberate your power in service of your vision, freeing up your ability to truly respond to life versus being caught in an endless chain of reactions.
With new tools, you'll be equipped to reconcile the inner and outer spirits of your heart to form greater intimacy in all your relationships. As you claim the power of your unique gifts, you'll become even more open to your vision and engage with your Earth Shrine to manifest your vision.
In this session, you'll discover:
A deeper self-inquiry process
How to mend the template for all relationships in your life through the practice of Ling and Shen
Ecstatic dance as a tool for transformation
How to resource yourself by connecting to the Earth and its dreaming
How to claim the power of your unique gifts
An opening to surrender and rest — you'll open to the energy that was created by the dream that is dreaming you, and step away from a life based on fear and survival
A structural tension practice to manifest vision in partnership with the Earth
Practices to cultivate a healthy relationship between power and vision
About Langston Kahn
Langston Kahn is a queer Black shamanic practitioner and teacher specializing in radical human transformation, ancestral healing, and the restoration of an authentic relationship with our emotions.
His practice is informed by somatic modalities, contemporary shamanic traditions, initiations into traditions of the African diaspora, training with Indigenous elders, and the guidance of his helping spirits and ancestors weaving it all together.
He gives workshops and lectures globally, both in person and online, and is the author of Deep Liberation: Shamanic Teachings for Reclaiming Wholeness in a Culture of Trauma.
More courses from the same author: Langston Kahn
Share Tool - Group Buy Tools and Premium WordPress From $1