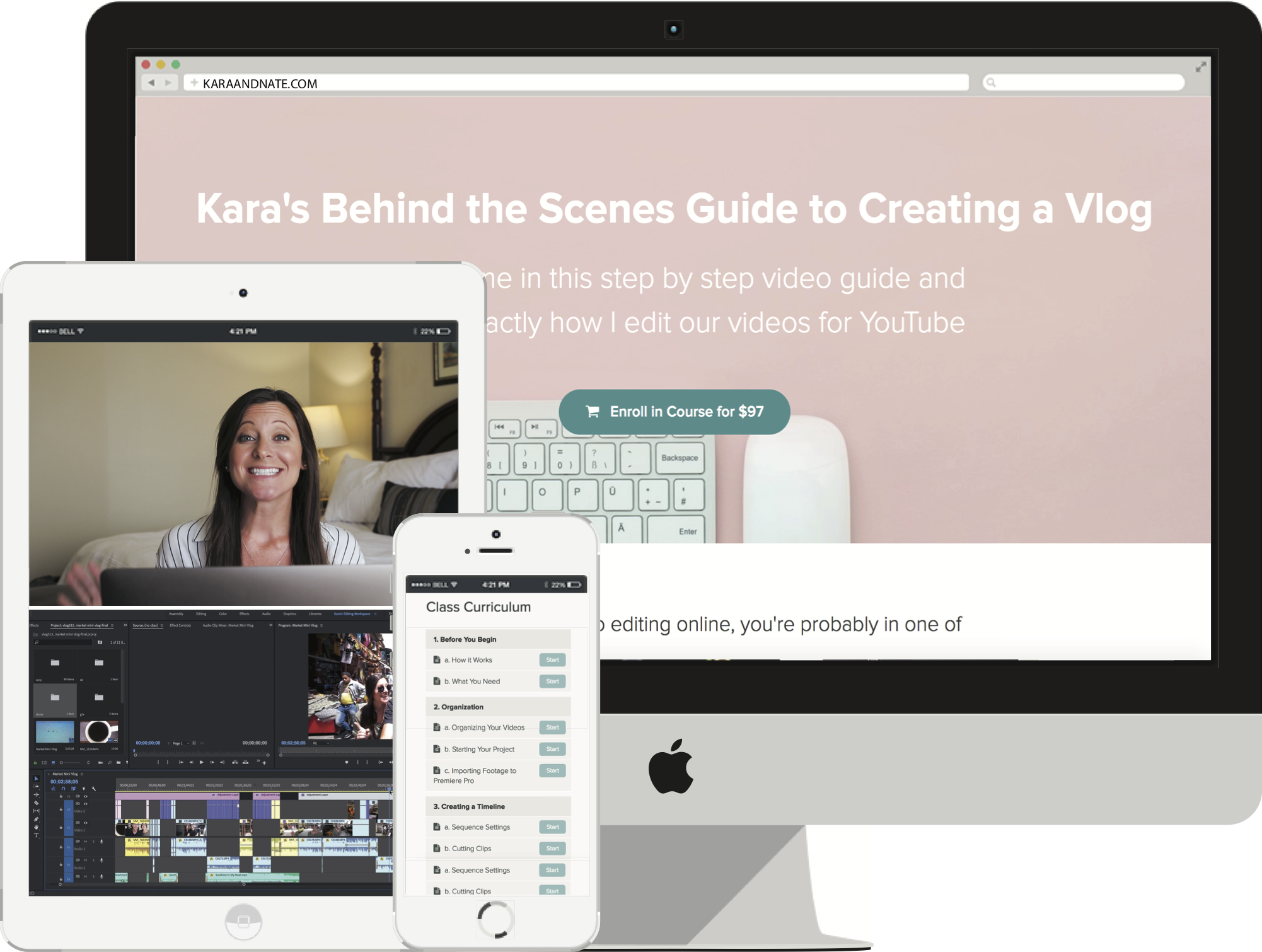 If you're trying to learn video editing online, you're probably in one of two categories:
Category #1: You have no clue where to start.
Category #2: You're growing increasingly frustrated by trying to piece together knowledge from 100's of random blogs and videos around the internet.
If this is you, progress can feel painfully slow at times, and no matter how hard you try, your videos just never turn out as good as you envisioned before you sat down to start editing.
Trust Me. I Know How You Feel!
As a self taught video editor, I battled these exact same problems. It's taken me almost 3 years of daily editing/learning to start creating videos that I'm truly proud to show off.
When I first started out, all I wanted to do was sit down behind another vlogger and watch over thier shoulder as they edited a video. This would have saved me so much wasted time and headache!
That's why I made Behind the Scenes Guide to Creating a Vlog: so you can watch over my shoulder as I teach you step by step how I edit our vlogs.
You Have What It Takes! Imagine if…
…You had the ability to create videos you were proud to show other people.
…You no longer had to wonder what goes on behind the scenes of creating a video that people actually want to watch.
…You could stop wasting your time watching 100's of mediocre online tutorials and learn everything you need to know to create a vlog in one place.
After completing this course, you will be able to create beautiful videos exactly like the ones you see on our YouTube channel.
Fast Forward Two Years:
We have created over 500 videos.
Our videos have received over 30 million views.
Our YouTube channel has almost 200,000 subscribers.
We won a Shorty Award for the best travel content creators on the internet.
And we now make enough money from our YouTube channel to continue traveling full-time.
Trust me, this sounds as crazy to me as it does to you! I truly can't believe the life we get to live because we started creating videos a couple years ago.
What You'll Learn In Behind the Scenes Guide to Creating a Vlog
The only program I have ever used to edit video is Adobe Premiere Pro. I personally think it's the best video editing platform, but my opinion is obviously biased. Either way, I'll be teaching you how to edit videos exclusively on Premiere Pro.
Premiere Pro has thousands of features, and to be honest I don't know how to use half of them. If you're looking for a comprehensive guide to learning Premiere Pro, you're in the wrong the place.
However, if you like my editing style and you want to learn the step by step process I use to create the videos you see on YouTube, this course is for you!
We publish a new video every other day (most of the time) while traveling full-time. I'm going to show you my workflow for efficiently creating beautiful videos without all of the unnecessary information you find in other tutorials.
The outline below shows you the exact lessons you'll be learning in Behind the Scenes Guide to Creating a Vlog.
More courses from the same author: Kara's
proof