Description of Rapid Response Certificate Course: Conquer the Crashing Patient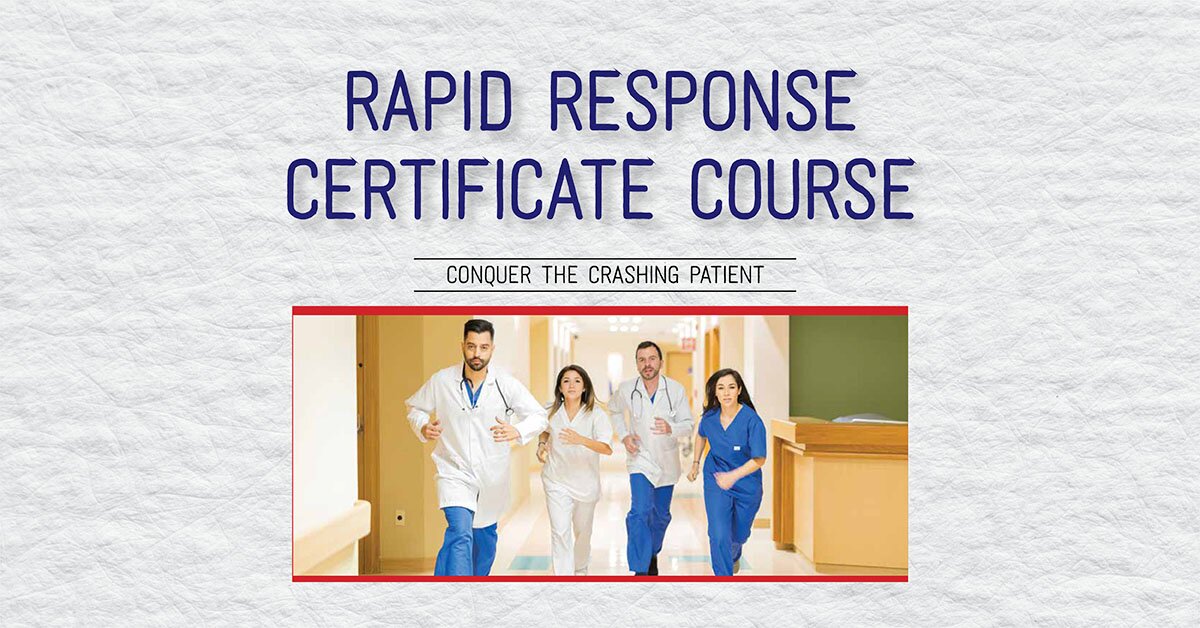 Imagine you are taking care of your patient – anywhere – any department/floor in the hospital, a nursing home, surgical site or clinic setting and suddenly grasp that an emergency situation is unfolding. Do you know what to do? Are you confident in your response? Even if you call an ambulance or have a rapid response team coming, YOU may still be taking care of that patient for up to 8 minutes or more. In that time, what can YOU do to help save lives? There are times in the past you wish you had done more….
This intense course will provide new clinical insights and critical thinking skills so you won't need to feel uncertain, scared or at risk anymore. The ability to assess, intervene and advocate will be reinforced through exciting clinical cases. You will experience the dramatic changes in your own practice when you work your next shift! PLUS, you will earn a Certificate in Patient Crisis Prevention and up to 12 CE Hours!
Description of Rapid Response Certificate Course: Conquer the Crashing Patient
Objectives
Categorize current challenges relative to your specific practice environment and patient populations.
Develop a proactive plan to respond to your deteriorating patient.
Evaluate the mental strategies necessary for success and process improvement when dealing with critically ill patients.
Integrate a comprehensive review of systems, with subtle but key red flag clinical assessment findings.
Incorporate a graduate level understanding of pharmacology into your current clinical practice with respect to the pre-, peri-, and post-arrest management of the medically fragile patient.
Apply advanced laboratory medicine concepts into your current clinical practice with respect to the "at risk" patient.
Distinguish the subtle signs from the "perfect storm" patient.
Choose the best interventions for stabilization of the deteriorating patient.
Determine the key interventions to stabilize the successfully resuscitated patient prior to or post transfer.
Analyze the latest clinical practice guidelines for common pathologies and comorbidities.
Evaluate landmark case studies to identify key failures in recognition and rescue of the crashing patient.
Assess legal documentation strategies to protect yourself and your practice.
Outline
Proactive Planning: Begin with the End in Mind
Pre-Planning for the worst at every patient encounter

Mental strategies for success
Failure to rescue and how to avoid it
Proactive risk assessment of practice environment/patient populations
Clear coherent communication of high-risk information
Concise comprehensive management of the crashing patient: Before, during and after the code
Advanced Assessment: Next-Level Connection of Form and Function
Review of Major Systems (Neurologic, Cardiovascular, Pulmonary, Multisystem)

Integrated advanced laboratory medicine/Clinical implications
Differential diagnosis/Consults/Follow up studies
Pathology: Priority Problems, Rapid Recognition and Rescue
For each of the 25+ pathologies below, the following will be discussed:

Presentation: Rapid review of form and function
Pathophysiology: Complications/Comorbidities
Projected clinical course: Where are we going with this?
Palliation and pharmacology: Cutting-edge practice guidelines
Neurology
Neuromuscular Disorders, Meningitis, Toxicology (Overdose), Traumatic Brain Injury/Concussion, Stroke/TIA, Dementia/Delirium, Agitated/Combative Patients
Cardiovascular
Dysrhythmias, Acute Coronary Syndrome, CHF, Heart Failure, Cardiomyopathies
Endocarditis, Pericarditis, Peripheral Vascular Disease
Pulmonary
Asthma/Upper Respiratory, Anaphylaxis, Aspiration/Dysphagia, COPD, Pneumonia
Metabolic/Endocrine Complex Comorbidities and Emergencies
Chronic/Acute Kidney Disease, Renal Calculi, Hypertension, Diabetes
Gastrointestinal/Genitourinary
Cholecystitis, Pancreatitis, Cirrhosis, Hepatitis, Infection (UTI, STI, etc.)
Psychosocial
Screening for: Abuse, Neglect, Depression/Suicidal Ideation
Shock States, Sepsis, and Trauma
Hypovolemic, Distributive, Obstructive
Multisystem Management of the Poly-trauma Patient
Legal Lessons: Protect Your Practice… Tips, Tricks, Pearls, and Pitfalls
Professional issues/Potential pitfalls (Delegation, Scope, EMTALA, etc.)
Rapid risk assessment and analysis
Limit liability
Defensible documentation
Putting It All Together: Case-Based Review
Identify Key Missed Moments, Lessons Learned and Best Practices
Assessment
Intervention
Documentation
Who is "Rapid Response Certificate Course: Conquer the Crashing Patient" for
RNs
RTs
NPs
PAs from Medical-Surgical floors
Cardiology
Neurology
Critical Care
Emergency
Urgent Care
Skilled Nursing Facilities
Anyone desiring next-level skills to proactively assess and intervene in the crashing critically ill patient!
About Sean Smith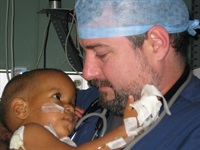 Sean G. Smith,  MSc, FP-C, CEN, CFRN, CPEN, CCRN-CMC (Adult),
CCRN-K (Neonatal), CCRN-K (Pediatric), is a flight nurse-paramedic who has practiced and taught Trauma Care, Tactical Medicine, Emergency/Critical Care and Prehospital Emergency Medical Services, both in the military and the civilian world. He holds degrees in nursing and molecular biology, is a graduate of Duke University's Legal Nurse Consulting program and is currently pursuing a master's degree through the University of Florida College of Pharmacy. He holds multiple advanced specialty certifications as well as extensive instructor qualifications in critical care and emergency medicine.
Career highlights include numerous author/co-author credits, including: a best-selling Laboratory Medicine textbook, a chapter on Shock in Trauma Nursing Core Curriculum, and a section in the newly released Resuscitation Crisis Manual. Sean consults on clinical, legal and certification prep for numerous high-profile hospital systems (Yale, Mayo…). He routinely lectures at national/international conferences, has completed 50 + medical missions (Dominican Republic, Honduras, Morocco, Liberia, and Haiti), and medical support to the NASA Space Shuttle Program.
Speaker Disclosures:
Financial: Sean Smith is an independent contractor. He receives a speaking honorarium and recording royalties from PESI, Inc. He has no relevant financial relationships with ineligible organizations.
Non-financial: Sean Smith is a member of the American Association of Critical Care Nurses.
More courses from the same author: Sean Smith
Share Tool - Group Buy Tools and Premium WordPress From $1